Are you ready to find out who the winner is?! Oh my goodness, I am soo excited for you guys!
Okay, here goes...the winner chosen by Random.org via Rafflecopter is:


a Rafflecopter giveaway
Entry # 355: Carla G.
Congrautlations Carla! Please be sure to email me (busilyspinningmomma(at)gmail(dot)com) your full name and address so we can be sure to get all those amazing goodies out to you!
If I do not hear from the winner with 48 hours, I will have to choose a new winner. So PLEASE Carla, email me!
Before I get to another little surprise for you all, I want to take the opportunity to thank all the amazing shops and the women behind the shops for their generosity. Most of these women are friends of mine and I thank you for making my birthday so special!
If you still wanna look through their shops, please be sure to visit them by going to my sidebar <---- and clicking on their button. They have such cute things!
And now, for the surprise.
In honor of Mother's Day, I have ANOTHER giveaway for you guys! This one will only be live until Wednesday at 10 am EST, so it's limited time only!
It's not as big, but man oh man, is it good!
The winner of this giveaway will win:

Amazing colors, right?
And especially fitting for Mother's day, you will also win, 3 handmade Burp clothes and a handmade lovey for your sweet baby:
How seriously cute are these?
They're made by the sweet Heather (who guest posted for us
here
and has the cutest blog
here
and is going to be opening a shop soon! (so these are very exclusive they aren't even sold yet!
And lastly you will win something from yours truly :)
Winner will get a choice of a top made specially for you! You get to chose between the two most popular refashions on my blog:
The Ruffled Lane, J Crew Knock off: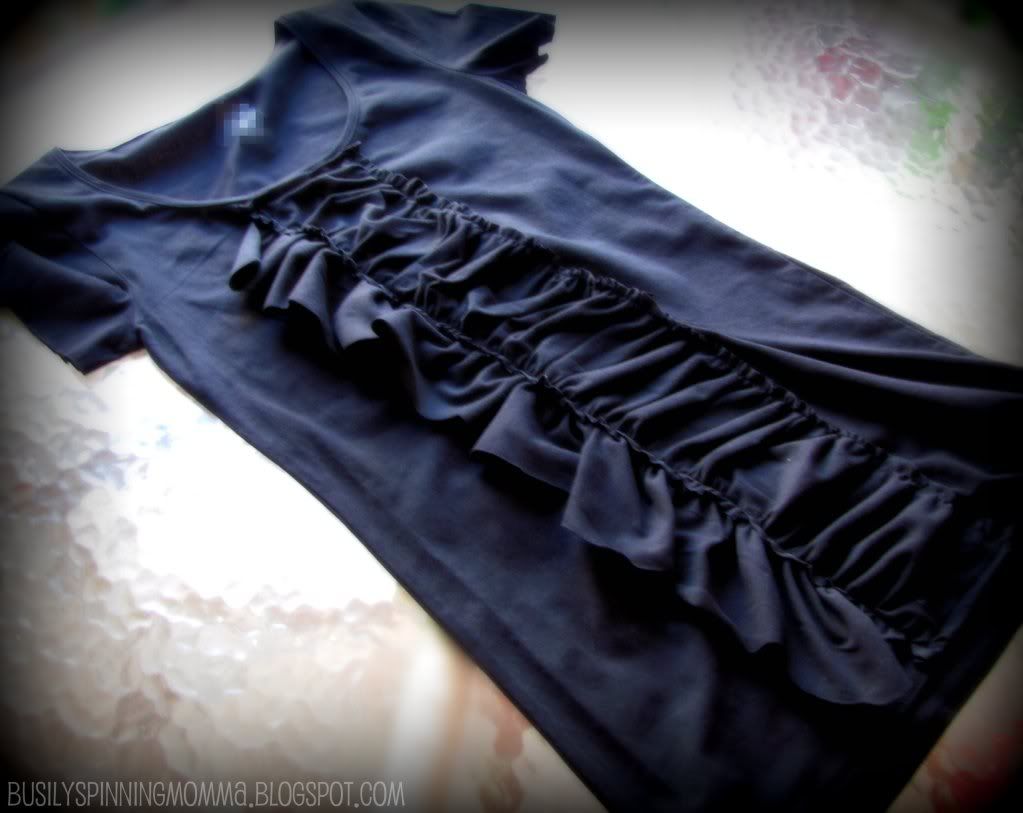 and the Ruffles & Buttons, Anthro Knock Off:
The tee will be gray.
And that's it!
What do you do to win? Well, we're going old school with the comments this time!
and please remember,
ONE COMMENT PER INDIVIDUAL THING YOU DO
. It ups your chances of winning :)
MANDATORY:
Tell me what you did on your Mother's day!
(leave a comment)
OPTIONAL:
- "Like" the Fat Quarter Shop on FB
here
(
leave another comment telling me you did)
- "Like" It's Our Story (Heather's blog) on Facebook
here
(leave another comment telling me you did)
- "Like" ME! Busily Spinning Momma on Facebook
here
(
leave another comment telling me you did)
-
If you like what you see, subscribe to my feed for another entry! (if you already do, tell me)
(leave another comment if you subscribe)
This giveaway will end Wednesday morning at 10 am EST
Thank you, as always, for reading and good luck!
Have a great Mother's day!
xo, Dorian